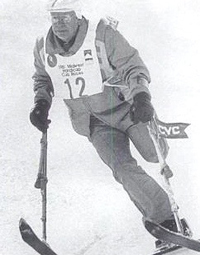 After Paul Leimkuehler, lost his leg in the war, he sought out to pursue sports for amputees. On a visit to Seven Springs Ski Resort, while his friends skied, he sat in the lodge and met an Austrian ski instructor who told him about the video "Miracle on Skis" featuring European amputees skiing. Leimkuehler quickly developed his own outriggers design from sawed-off crutches attached to shortened children's skis. Leimkuehler and fellow amputee Stan Zakas started skiing with the first outriggers in the U.S. and the word spread. Leimkuehler shared his discoveries with the amputee community and purposely didn't patent the device so that others amputees could copy it. He worked with Head Ski Company to provide equipment to amputees to build their own sets of outrigger poles, also known as three-track skiing, and eagerly shared his drawings and measurements with all who were interested. Additionally, Leimkuehler and Bert Fishers co-founded 3 Trackers of Ohio, one of the oldest adaptive ski programs in the United States.
By the 1960's, he served as an adviser to the founders of the National Handicapped Ski Race, which focused on developing disabled ski programs at several resorts.
In 1981, Paul Leimkuehler was inducted into the U.S. Ski and Snowboard Hall of Fame for his pivotal role in the amputee and adaptive skiing community. He was fondly referred to as "The Grandfather of Handicap Skiing." Paul was also inducted into the National Disabled Ski Hall of Fame in 1996 for his accomplishments, and the Ohio Veterans Hall of Fame.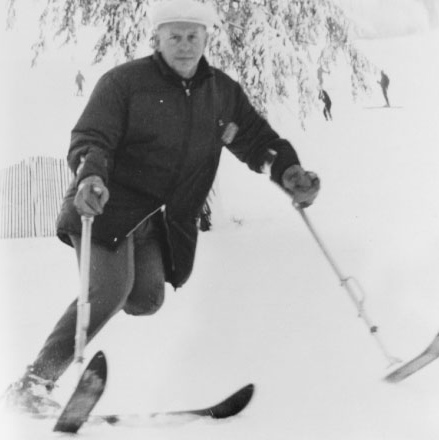 Leimkuehler, a lover of sports even before his amputation,  competed in the 1936 U.S. Olympic Cycling Trials as a teenager and was the 1938 Ohio State Cycling Champion. He continued to spread his passion for sports by helping guide Mary Sue (Anter) Tanis  to launch Youth Challenge in 1976 that brings together children with physical disabilities and youth volunteers who enrich each other's lives through one-on-one participation in adapted sports and recreational activities. Leimkuehler also took up golfing and competed in the National Amputee Golf Tournament for more than 8 years.
Today Paul Leimkuehler, known as the "Father of 3-Track Skiing," is considered a pioneer in disabled skiing in the U.S. thanks to his outrigger design that has allowed millions of amputees to ski for generations to come.